Mbak Fitta yang suka
belajar di dapur
ngasih
homework
tentang makanan favorit. Dikasih taunya udah sejak jaman kapan, dan baru dikerjain sekarang.
Gomen ne
.... Maaf ya mbak Fit, baru sempat posting sekarang.
Kalo ngomongin makanan Indonesia, banyak banget deh yang bisa aku masukkin ke dalam
list
favorite foods
. Mulai dari menu makanan di resto Padang sampe makanan warung koboi murah meriah yang sering didatangin waktu jaman jadi anak kost di Jogjakarta yang berhati nyaman. Dari yang berbahan
seafood
sampe daging. Apalagi makanan yang dimasak oleh tangan mama-ku, tiada dua-nya deh. Diantara sekian banyak itu, sebenarnya aku paling suka makanan hasil olahan berbahan ikan. Seperti mpek-mpek, tekwan, siomay dan batagor. Kali ini aku pilih "batagor" buat di-
posting
di sini. Kalo pas ke Bandung, aku selalu nyempatin mampir ke warung batagor yang terkenal di sana.
Berikut ini resep batagor ala Shinta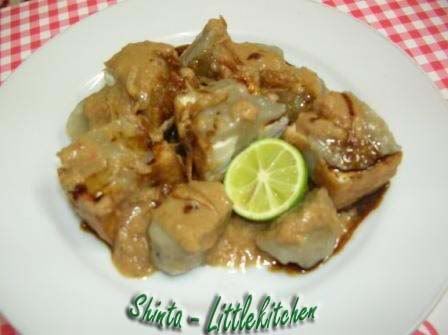 Bahan :
350 gr daging ikan tenggiri
3 siung bawang putih dihaluskan
8-10 sdm tepung kanji (aku pake katakuriko)
1 butir putih telur
1 sdm minyak wijen (optional)
3 sdm air es/es batu
garam secukupnya
2 batang daun bawang, diiris (optional)
2 pak tahu putih/goreng, dipotong dgn ukuran sesuai selera
Sambal Kacang :
50 gr kacang tanah, digoreng lalu dihaluskan
2 buah cabe rawit dihaluskan
1 buah cabe merah dihaluskan (kalo suka pedas bisa ditambah)
4 siung bawang putih + 1/2 sdt terasi dihaluskan
3 biji asam
600 ml air
Garam secukupnya
Gula merah secukupnya
Pelengkap :
Bawang goreng
Jeruk limau
Kecap manis
Cara membuat :
1. Masukkan semua bahan kecuali tepung kanji, irisan daun bawang dan tahu ke dalam
food
processor
(
blender
juga bisa), proses hingga semua bahan halus dan tercampur rata.
2.Tambahkan daun bawang dan 8 sdm tepung kanji, proses lagi sampai adonan rata. Bila adonan masih terlalu lembek, tambahkan tepung kanji sedikit demi sedikit.
3. Ambil 1 potongan tahu, tutupi dengan adonan ikan pada permukaan atas dan bawahnya lalu padatkan. Bagian samping biarkan terbuka (biar keliatan ada tahu-nya....
hehehe
). Lakukan terus sampai potongan tahu habis. Adonan ikan kalo bersisa dikepal-kepal jadi siomay.
4. Siapakan kukusan. Kukus batagor dan siomay tersebut selama kurang lebih 30 menit.
5. Buat sambal kacang. Tumis bumbu halus sampai wangi lalu masukkan kacang tanah yang telah dihaluskan, gula, garam dan air. Aduk-aduk supaya rata dan tambahkan asam. Masak sambal kacang hingga mendidih.
6. Goreng batagor dalam minyak panas sampai permukaannya cukup kering. Kemudian sajikan dengan sambal kacang dan pelengkapnya.
Berikutnya aku teruskan ke mbak Retni http://www.retnipra.blogspot.com
Kalo sempat, dikerjain ya mbak.......
------------------- start to copy -----------------



Proposition: What is your favorite food in your state or country?

Requirements: Find some info about the food and show delicious pictures of it?

Quantity: FIVE PEOPLE.

Tag Mode: You leave their blog and post link and add to the list below.
Mybabybay loves Asam Laksa from Penang, Malaysia,JustMyThoughts loves Penang Char Koay Teow,My Lil Venture loves Laksa Sarawak, Monterssorimum loves Teluk Intan Chee Cheong Fun, Chinnee loves Melaka Wan Tan Mee, PeimunLeah loves Hakka Lei Cha, Hui Sia loves Crispy duck skin from China, Karen loves Pan Mee, Simple American loves Cheese Enchiladas, Nicole Tan loves Char Tau Kueh, velverse loves Otak-Otak, Giddy Tiger loves Dim Sum, may loves Roti Bakar, Selba loves Gado-gado, Chen loves Satay*, eastcoastlife loves Shanghai Buns, Kev loves 蕃薯旦, Bokjae loves Ipoh Sar Hor Fun, Cooking Momster loves Penang Heah Koh & Chee Cheong Fun, Blur Mommy loves Clam Chowder, Granmother Stories loves everything, East Meets West Kitchen loves Good Dim Sum, Little Corner of Mine loves Nasi Lemak & Penang Assam Laksa, Paknesia Food loves Rendang, Food is Love loves Tumis Kangkung, My Sweet Kitchen loves Tumis Tempe Cabe Ijo, Diajar-Masak loves Soto Bandung, Haramain's kitchen Pavlova, Shinta-Little Kitchen loves Batagor.